How to Eat Healthier To Lose Belly Fat
If you want a perfectly toned and sculpted abdomen, you will have to reduce weight and eat healthy. The best way to lose belly fat is by reducing your overall weight and by increasing your body fitness – as this will automatically give you a toned look, which will also reflect on your abdomen.
Unfortunately, whenever a person begins to gain weight, the excess fat tends to accumulate around the abdominal area. It is important to lose belly fat fast as it can prove to be very harmful for your health. It may sit around your belly and in some cases wrap around the important organs, harming them seriously.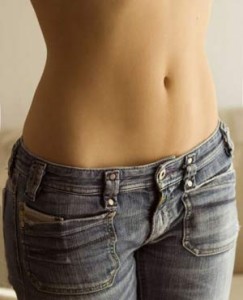 How to lose belly fat through proper diet?
It is important to follow a good diet when you are trying to lose belly fat fast. This does not mean that you should starve yourself. On the contrary, you should have a number of meals throughout the day. Of course you should not overeat in all those meals. Instead, you should have small helpings of food, 5-6 times each day.
Breaking your meals through the day, instead of having 2-3 huge meals, will keep you feeling full, and thus stop you from overeating. Breaking your meals through the day also increases your metabolic rate and thereby increases the amount of calories that are burned in your body, thus helping you to lose belly fat fast! Choose a diet plan that suits your lifestyle, otherwise, you will not be able to stick to it.
To eat healthy, you can include a lot of fruits and green vegetables in your diet. Such foods will help to reduce the amount of calories that enter the body. If you do not like some food, you can add spices and herbs to make them taste better.
You should also begin to find healthy replacements of fattening foods like butter and so on. Whole grains, complex carbohydrates, proteins and other similar nutrients should be included in the diet.
How to lose belly fat through exercise?
Proper exercise is perhaps the best means to lose belly fat fast. Some regular cardio exercises like running, cycling, and swimming can help you burn a lot of fat. High Intensity Interval Training is great for losing weight by upping your metabolic rate. You should incorporate a number of exercises in your schedule, including weight training. If you are a woman, do not be afraid to weight train thinking that it can make you look masculine – because it will not. In fact, a little bit of lean muscle on your body will make you look fit and will also give you great abs that you can be proud of.
Regular stomach crunches reverse and cross crunches can help you lose belly fat fast and achieve a perfectly toned stomach.