What Are the Best Fitness Games?
Nowadays, those people who are interested in sports and fitness games are looking for a wide variety of games that they can play indoors as well as outdoors so that they can stay in shape and even tone up their bodies. For many people, indoor exercises are becoming more and more important as it is becoming increasingly difficult to leave the house. This is especially true in winters when it is too cold to go for a walk or if you have a child in the house that you cannot leave alone. Many people are turning to fitness games in the form of video games. It may seem like an unhealthy option but with the development of technology "Kinect", you can play just about anything in your living room whether it is badminton, tennis or you can even learn how to dance.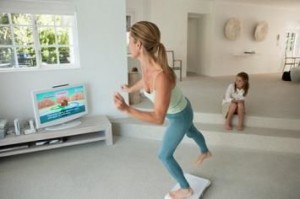 After the development of Kinect, many fitness games have been developed that target weight loss and allow people to stay in shape with fun. For many of these games, you do not have to play alone; you can always grab a friend to play it with you, right in your living room. For a full body workout, Zumba fitness dance routines are the best, because they appeal to women of all age brackets. Make use of the Zumba Fitness 2 on Wii where all you have to do is to follow the instructor and learn the dance steps that target the muscles of your body and allow you to stay in shape.
For a more personalized fitness training experience, try out Fitness Evolved 2012, which is the sequel to the popular fitness game. It is not only personalized but also very extensive, you can choose from boot camps and martial arts to resistant exercises, cardio exercises or even a good combination depending on your weight loss or weight maintenance goals. If your inclination for the Best Fitness Games is towards strength training and endurance then you should definitely check out UFC Personal Trainer: The Ultimate Fitness Trainer, which is a mixed martial arts fitness game. One thing you need to be mindful of is that this game is not for beginners, if you have previous experience with Kinect games and you are fond of martial arts, then this high intensity game will definitely keep you and your muscles occupied.
For beginners to best fitness games, the Wii Fit Plus and Balance Board is a good option because it helps you start your exercise and fitness game regime on a regular basis. It gives you the motivation required because this game starts by asking users what their real age is and then informing them of their 'Wii' age. You can choose from simple yet effective exercises like yoga to aerobics in this virtual fitness game. These are just some of the popular options available for you right in your living room especially if you have Kinect. So get some of these latest and best fitness games on your video game player and set a regular routine for yourself especially in days when you cannot go outside your house.