Exercises for Pregnant Women
Being pregnant is a special time in your life when you can see your body change physically. You are now responsible for taking care of yourself as well as your unborn baby. As such, it is important that you stay fit and take care of your health. Though it might come as a surprise to many, exercise for pregnant women during this period can be very rewarding – helping you to stay on the top of your health.
While performing any exercises while pregnant, you should remember to take certain precautions while working out. Not all exercises are good exercises for pregnant women. As a rule of thumb, you should take care that your heart rate never goes above 130-140 beats per minute. In case you feel that this is the case (you will feel too hot and uncomfortable), you should allow your body to cool down. Remember that heating up can be very harmful for both you and your baby – so you need to be careful.
Another thing you should remember is that, bad exercises for pregnant woman will make you hold your breath. But this should not be the case. If you find that you have to hold the breath while carrying out an exercise, you must realize that you are overexerting yourself and must stop immediately.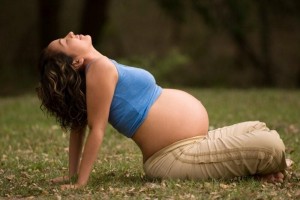 Practicing safe exercises for pregnant women
Here are a few pointers that you should take note of while you are pregnant, and after you bring your new baby home.
It is a good practice to exercise regularly – three times a week is a good habit. Always ask your trainer about the safe exercises for pregnant women and how often you should do them. If you are in doubt, always make it a point to ask someone who can guide you in the right direction.
If you have been using weights as well as doing aerobics before you got pregnant, you can still keep them up in moderation. However, it is also very important to note that if you were exercising before, you should not begin a new program now. You can however use some light weights and walk a bit, if your doctor recommends it.
Remember that as a pregnant woman, you need even more fluids, and so does your baby. As such, you should drink plenty of water during, after and before the exercise routine. Also remember that you should not perform any exercise that requires you to be on your back, as these are not safe exercises for pregnant women who are in their second and third trimester.
Avoid jerky movements during pregnancy and also make sure that you never perform squats as this can cause the separation of the placenta from the uterus.
Safe exercises for pregnant women
Important exercise for pregnant women includes curl ups – these are modified sit ups that can me done to a maximum of 45 degrees from the floor and the knee should be bent and weight should be on the floor. However, remember that this exercise may be very dangerous after the first trimester.
Kegel exercises will help you to strengthen the pelvic muscles and thereby safeguard you from a number of prospective complicacies during pregnancy, including stress incontinence or urine leakage.
Some stretching exercises are great for your hamstrings and your back and will help you to stay fit during your term. Performing some light yoga during this period is also a great idea.
Finally, remember that just because you are pregnant, does not mean that you will have to let yourself go. On the contrary, staying fit and healthy during this period is even more important. So working out and performing the best exercises for pregnant women can help you to have a healthy life and a healthy baby.